Representing the Very Best Manufacturers for the Northeast U.S.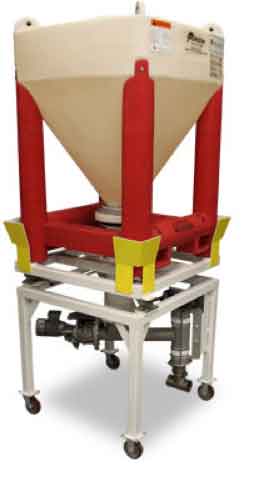 HORIZON SYSTEMS
Ingredient Management Systems
Unique Tote System to provide sanitary intermediate storage of ingredients. Quick change with auto inflatable seal, and options for metering discharge via screw or rotary valve. Incorporated with RF ID Tags eliminate potential for cross contamination in auto blend systems. Volumetric or Gravimetric control for optimum accuracy.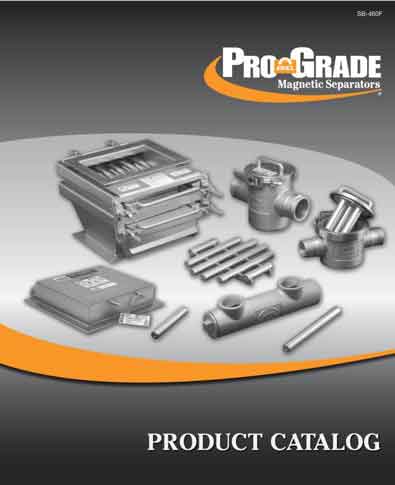 ERIEZ provides standard products at reduced list pricing and immediate availability to support our valued customers. This catalogue offers everything from simple tube magnets, to grates, plates, traps and even suspended magnets. Please contact your ARMAC contact to verify pricing and stock status today.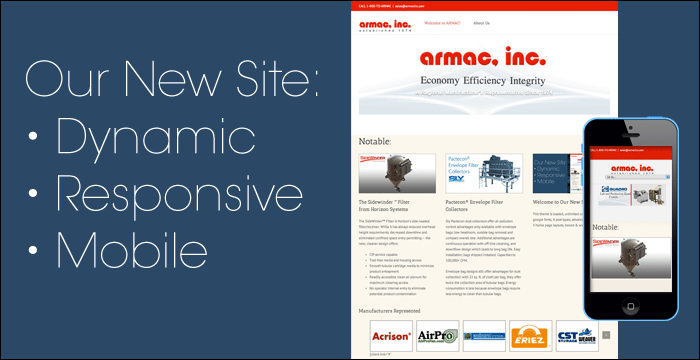 Welcome to Our Upgraded Site,
Simplified to Meet Your Needs.
We've listened to you. You want up to date information. You want a responsive web presence. And you want a variety of platforms. You got it. We've upgraded our site so that we can keep you up to date with the latest happenings at ARMAC, including products and product families that will help your profitability. And we know that you're on the go, not always glued to your desk, so we've designed armacinc.com to respond to everything from your PC to your iPad, and right down to your iPhone or Android device. Our goal is to be your best resource for the ever-changing world of manufacturing. Thanks for your business!
ARMAC INC is a regional manufacturer's representative firm.  Our customers are both the manufacturers trying to sell their products and services and the end users that eventually apply this equipment to their most important processes. As a commission income based operation, it is critical that we offer both value and professionalism to the New England/Upstate NY Industrial marketplace.  We believe our value, to both, is competent technical support to the immediate issues confronting our valued customers' every-day. We do not hesitate to respond to both sales and service inquiries be it via the phone, internet or personal visit. We particularly enjoy learning about these processes and assisting to Improve, automate or make for a safer work environment.  Our goal is to be remembered as valued colleagues and support personnel, not just another sales office. We value your business and partnership.

ARMAC INC provides equipment and process expertise to the dry bulk material handling customers of New England and Upstate NY. With such a diverse industrial area, we define our markets as Sanitary (Food and BioPharmaceutical), Processing (Chemical, Plastics Converting, General Industrial) and Heavy (Aggregate, Paper, Power and Recycling). In these general markets we focus on material handling applications for conveying, blending, size reduction, metering, dust collection, storage and metal recovery/separation/detection.  We are often asked to provide systems engineering or system design services along with installation support – we can do that and have partners that support this need. With over 100 years of collective application engineering and field sales experience, we provide in depth product and process knowledge to this diverse group of customers.
We were established in 1974.
We have over 100 years of combined application engineering experience in New England.
We are a fully staffed office, ready to answer your inquiries.
Everything we sell is an engineered item, not a commodity part.
We believe our role is to be problem solvers first, salespeople second.
What Our Customers are Saying about ARMAC
Expert resource responsive to providing support on all levels…
ARMAC is a truly professional organization. They're well run and well trained, serving their customers and manufacturers with utmost integrity, respect and thoughtfulness. Their application knowledge, follow-thru and customer support is the best in the business.
Acrison, Inc is proud to be associated with the ARMAC team for nearly 33 years during which time they have provided us with outstanding representation of our Equipment Line. Their technical expertise in the field of Dry Solids Handling and their ability to successfully apply our equipment across the various processing industries for better than three decades is a true achievement and one that Acrison is privileged to recognize.